Vern Johnson, PCA/CCA, powers his business through a single platform
Vern Johnson will be the first to tell you he's not a tech-savvy guy. He's not going to be current with his iPhone updates, or have the newest smart gadget in his home. But while he's old school and frankly, sees a lot of "tech" as a major pain – when it comes to his business – the man has an inherent, 'I'm going to figure this out' attitude, about the technology he knows will bring value.
Growers in southern Arizona come to Vern Johnson for the full package. As an independent CCA for Arizona Ag Solutions and an authorized agent for Fertizona, he swings a pretty wide swath in terms of the agronomy, pest control and crop management solutions he provides to growers. But with such a variety of services, comes a real need for efficiency, and the ability to connect everything into one system.
Agrian's software plays a central role in powering Johnson's business – and he's upfront about that. "What I'm trying to do, it doesn't happen without Agrian," he says.
Whether that's scouting and batching out recs right from the field or working on crop plans in the development phases with his growers – with Agrian, Johnson can do everything all in one place. And it's that efficiency that has allowed him to focus more of his time on what really matters in any relationship-based business.
"I look at my relationships with my growers as a long-term partnership. If I can't help them make money and remain profitable, then I'm really not much help to them," Johnson says.
The importance of partnership, and the value placed on long-term relationships, translates right into Johnson's own experience with Agrian.
Real-Life implementation
"Early on, one of the difficult things I faced as a PCA, when it came to figuring out how to do everything on my own, was finding an integrated platform," Johnson recalls. "I needed one where I could scout fields, crop plan, write recommendations, keep records – and do it all in one place. Agrian was it."
Self-admittedly, Johnson is "not a tech-savvy guy," but he counters that with a stern determination to figure out, implement and use the technology that he knows will help him drive his business forward. He's never been shy about using the training sessions, or the on-demand phone support offered by Agrian's Customer Success team.
"I'm not as hand-eye coordinated when it comes to point-and-click on a computer," he says. "But I'm also not afraid of it, and I'm not afraid to pick-up and phone either. Sometimes, you just have to pick-up the phone."
On the other end of that phone, Johnson has valued the Agrian support team and the service and training they've provided.
"Patience is not always a virtue of mine," he laughs. "So, I appreciate that they pick-up the phone when you call. There is no complicated phone tree, just a knowledgeable person on the other end."
Real-Life value
Johnson has been with Agrian from the beginning. "The very first rec I ever wrote as a PCA, came out of Agrian," he says pointing to the wall. "I have it hanging on the wall here."
Over the years, he's seen first-hand the weight his recommendations carry – particularly the value brought to the table when there's an issue, and things have been documented within Agrian's ironclad system. "Let me be straight. I need this to cover my back – and my growers' backs. I need to be in a situation where I have record of what I gave – official record, that will stand up in court – because you do this long enough, it's not a matter of if, it's a matter of when you're going to be there."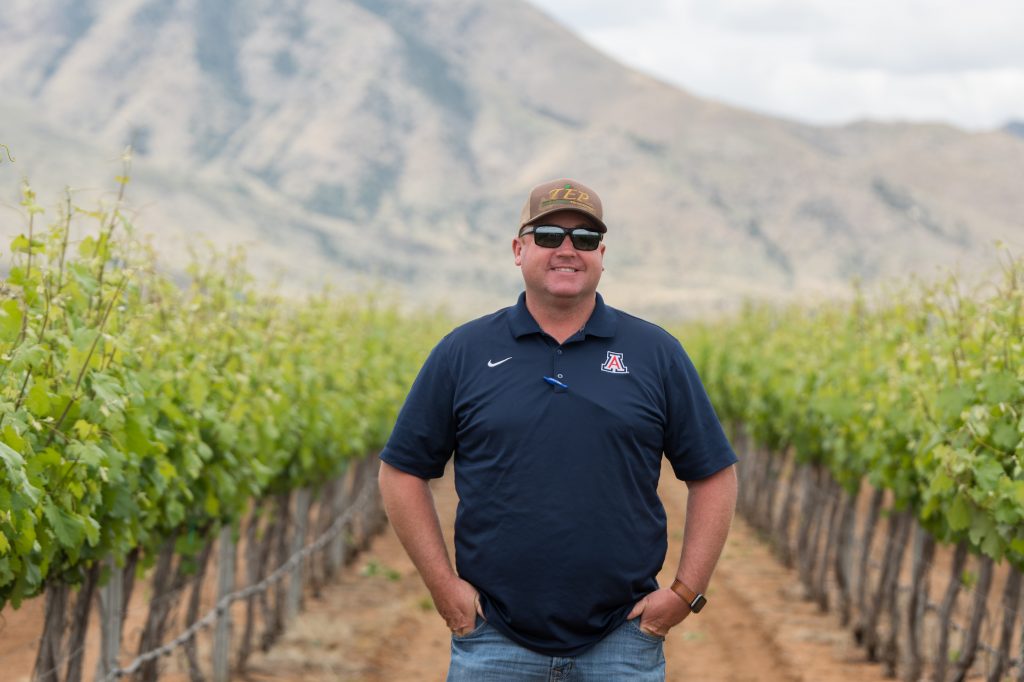 For Johnson, integrated rec writing and recordkeeping also helps with shifting regulations. "My recommendation could affect where in the global market my growers are able to go with their crop. And it's always a moving target. Nothing will get you fired quicker than if you tie a grower's hands and take them completely out of a marketplace," Johnson says.
—
Johnson truly values the partnership between Agrian and the business he's built today – seeing their relationship as an essential part of his ability to build trust and expand business with his growers. "Without Agrian, and without Fertizona's support so I can have Agrian, I would be lost. Agrian is a partner that I have to have – just as important as having my growers or having my affiliation with Fertizona as a retailer."
Interested in learning more? Request a demo here. Or reach Agrian by phone at: 559-437-5700.