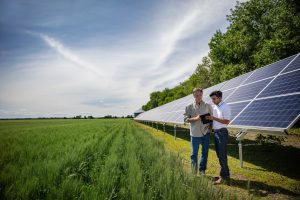 Introducing our newest integration with Dispatch Pro
As an agronomist, writing strong, data-driven recommendations is your bread and butter. Identifying pressures in the field and using agronomic knowledge and precision technology to prevent crop loss and protect profitability is where a successful season is born. But, visibility from recommendation to application isn't always straightforward. Manually sending a work order to a different technology platform, calling your dispatcher over the phone, who then relays the information to an applicator, can be a time-consuming and messy process.
We're excited to announce that you can say goodbye to switching between two software systems to manage your work orders, and utilize the seamless integration of the Agrian platform by TELUS Agriculture and Raven's Dispatch Pro. TELUS Agriculture has a mission to connect partners through the supply chain and within the industry through innovative technology, and this partnership does just that. "The integration with Dispatch Pro enriches Agrian's long standing relationship with Raven and connects two integral solutions for our mutual customers. It enables agronomists and service providers to continue making accurate and dependable recommendations and work orders while reducing double entry, time delays, and potential communication breakdowns throughout the process," said TELUS Agriculture Product Manager Kaleb Lindquist.
With the introduction of our new integration with Dispatch Pro, users can now seamlessly send those work orders to a dispatcher, and watch the progress of the order through completion, all within their Agrian account.
"While creating this integration, both Raven and Agrian teams really focused on supporting and enhancing our users' current workflows, not making new ones. This focus has resulted in a solution that makes life easier, as opposed to adding additional steps to the workday," said Lindquist. 
As a dispatcher or applicator, the burden of double-entry is relieved as well. "This provides our mutual customers with a seamless experience that helps them to cover more acres in a day with less paper, phone calls or headaches," said Paul Welbig, Director of Business Development. "It's a true Connected Workflow™ experience that boosts efficiency." No work in Agrian's system is required for advisors to view progress being made on an application. As the status of the work order is updated in Raven's Dispatch Pro, status changes will be reflected on the work order created and housed in Agrian, as well. 
"Agrian and Raven have been partners for years and this is the latest example of new capabilities that deliver real, tangible value to our mutual customers. We look forward to continuing to build up this relationship for years to come," said Welbig. 
Agrian is proud to integrate with many key industry technologies that help to eliminate agronomic data silos for our customers. Keep an eye out as we highlight these powerful integrations throughout the year. 
For more information about our integrations or for more information about Agrian, please contact sales@agrian.com.