Fueling the Future with Agrian in the Classroom
Inspiring and equipping the next generation of agriculturalists is fundamental to the missions of both Agrian and TELUS Agriculture. Supporting sustainable practices begins at the educational level, and the Agrian in the Classroom program does just that. In today's rapidly evolving industry, technology and agriculture go hand in hand. Agriculture professors at the university level now commonly integrate various technologies and softwares into their curriculum and utilize a hands-on approach to plant science, agri-business, and systems management. 
At the University of Idaho, Laurel Lynch's Computer Applications in Biophysical Systems class is using Agrian's platform on a day to day basis. As Ag Systems Management majors, the students focus on soil management, technological innovation to maximize profit, welding and irrigation, and more, all through a practical, hands-on method of teaching. Agrian offers educators the entire platform so that they have access to each and every one of Agrian's features. According to Professor Lynch, their features of focus have been:
Zone management 

Soil survey

Sampling

Satellite imagery 

Map layers 

Fertility recommendations 
With the help of Agrian experts, Lynch's students were set up with individual accounts with two mock fields placed in different regions in no time.
"What's fun is having them create a variable rate map, but then have them think about how they would interpret that. Moving beyond just the colors, and think about how many zones are reasonable, to have more zones in a North Idaho field or a South Idaho field and why, bringing in their understanding of soils and variability at the field level, has been really enjoyable. Taking what Agrian spits out at you and then using your brain to interpret it," Lynch explained.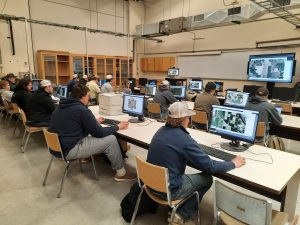 Lynch's students even had the experience of a hands-on lab led by Client Success Manager Lindsey Andrews, where they were taught to find and create their own farms in the program, to simulate a realistic scenario rather than working with mock-up fields. 
Lynch expressed her class's appreciation and curiosity for all of what Agrian offers, such as record keeping and compliance features. Enabling students with the skill of navigating a precision agriculture platform opens up the door for learning to continue. Many of the students have access to equipment on family farms enabled with variable rate of fertilizer, but didn't have the base knowledge to put it to use before Agrian in the Classroom.
"It's becoming a required skill to be able to use precision ag technologies," says Regional Sales Manager for Agrian in the Boise, Idaho region, Adam Daggs. With many large ag retail companies based in this area, the University of Idaho has become a large feeding ground for agricultural career development. As an ag student at the University of Idaho in 2008, Daggs himself used software in the classroom. Because most universities don't have the funding to purchase the latest developments themself, he prides himself in providing the students of today with the best learning experience possible, at no cost. 
Having access to Agrian in the classroom pushes the talent pool to new heights and forces graduates of the university to be in tune with technology, which is exactly what ag employers need, Daggs explained. Even if agriculture students decide to take a different path upon graduating, a greater knowledge of software systems will be useful in almost any industry imaginable. "The goal [of Agrian in the Classroom] is that if we give it to the students, then they've had exposure to the program and will possibly take it to their future careers, especially those who go back to family farms or run their own operations because they're familiar with it," says Andrews. Beyond this, students who begin careers in ag retail are also likely to carry their experience with them, as they begin to recommend software and tools to relieve pain points for their customers.
At Agrian, we want to help as many operations as we can grow profitably and sustainably, to contribute to a friendly future. The youth of agriculture must not be forgotten as we pursue our goals for the future of the industry. 
If you're interested in getting Agrian in your classroom, please email us at marketing@agrian.com to learn more!