The Ultimate Guide to Digital Transformation for Ag Retail
If you're reading this, you already understand the changing expectations of your customers and the potential impact this will have on your success as an agricultural retail input provider. This guide has been written with the assumption that you know why you need to lead your ag retail company through a digital transformation. Use it if you're not sure what all it involves and the next steps you need to take.
We have compiled our experience and learnings in this guide to provide you with actionable steps and initiatives that are critical for digital platforms in the ag retail industry. Here's everything you should know about how your ag retail company should transform for the digital age.
How to Use This Guide
As you follow the steps we list below for transitioning your business to the digital market, keep each of these best practices in mind. If you follow these instructions as you implement, you'll be perfectly positioned for success and growth:
Follow All the Steps
Resist the temptation to "cherry pick" which of these strategic components you want to implement over others. Each of the steps listed here complement and enhance one another. Following each of our steps into your plan going forward is the best way to successfully make the big leap into digital business.
Find a Good Partner
Most agricultural retailers don't get too excited about resourcing and staffing a new digital organization within your business. Preparing an entire business for the digital marketplace takes a lot of time, money, and effort – especially if you're starting from scratch.
Instead, strongly consider partnering with a company that has the experience, existing solutions, resources, and expert professional services. The right partner can launch you further on day-one and help you achieve your goals that much quicker. And once you have your partner…
Focus on Your Ag Retail Strengths; Delegate and Collaborate
Focus your own internal resources on locking down your supply chains and developing the kind of leadership roles that have influence throughout your business. Let your technology partner work on the nitty gritty digital details. In the meantime, the leaders you develop should collaborate closely with your technology partner to create the unique user experience you desire. Your partner knows technology, but you know your agricultural retail industry business; you'll only be able to create the perfect digital experience if you collaborate and combine your skills.
With proper supply chain management, leadership that understands your goals, and the right technological partner, your digital strategy will skyrocket your business to higher success than ever before.
We've provided this guide because the success of our business has always been and continues to be closely tied to the success of an ag retailer's input providers. We recognize how the grower's expectations are changing and how this impacts our client's business. We're ready to help you transform your business to address these needs. Without further ado, here's how you can make it happen:
Create a compelling digital agronomic offering
A comprehensive agronomic profile of your customers is a vital component of any ag retailer's digital transformation strategy. Most likely, the data you need is scattered throughout your organization on multiple laptops, USB drives, spreadsheets, mobile apps and in the minds of your sales consultants. Commit to standardizing the processes, tools, and platform your team uses to manage your customer's field data and make agronomic recommendations. Consistency, simplicity, and clarity are key in any retail industry business – especially online!
Mapping
Map all of your customer's fields in your ag retail customized digital agronomy platform. This requires you to standardize on the structure of your customer's organization. Synchronizing with your Enterprise Resource Planning is critical in this process.
Set stretch goals for your teams to map 100% of your customer's fields. Having a record of the geographic location of your customer's fields unlocks an unlimited set of capabilities to derive agronomic insights and business opportunities.
Launch a strong initiative to collect and manage all of your customer's field level data with your digital agronomy platform. Partner with equipment companies such as John Deere, Raven or input suppliers. Utilize their in-cab technologies to streamline planting, harvesting and application data capture with your system.
Get your team focused on using technology to make great agronomic recommendations and provide valuable farm data management solutions for their customers. Determine the most valuable capabilities you need from a customized ag retail digital agronomy platform to support your retail business. Select one solution that best delivers those tools.
Expand your use of digital tools to capture and manage information related to all the agronomic services you provide. Utilize an automated sampling workflow for at least soil, tissue, and nematodes that incorporates geotagging sample locations and can support an electronic transfer of results from technologically advanced labs. Incorporate access to satellite and aerial imagery to support in-season crop management services and utilize the digital agronomy mobile app to record and report all infield observations (i.e. scouting and trap monitoring data).
Automated Sampling Workflow
Sampling Locations
User manually sets point locations in the field or preemptively defines sampling locations.
Data collection
Samples are collected from predefined locations or on-the-fly.
Data analysis
Results are sent to the lab and analysis is performed based on the package selected for testing.
Automated Results
When analysis is complete results are automatically posted to your Agrian account.
Integrate your agronomic recommendations with retail operations systems by creating digital workflows that streamline the process of executing and completing application work-orders into planned activities and documented events.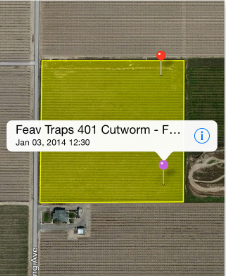 Note:
Implement automatic label verification and reporting for all product recommendations on crops in geographies where regulatory requirements exist. Utilize streamlined electronic reporting to packers, shippers and processors as added value for your customer's operations.
Make it easy to do business with you
Create a simple, intuitive online portal that allows your customers to review their business account invoices, monthly statements and make electronic payments. Users should be able to easily view historical purchases and export data to their accounting systems. Include a notification feature when new documents are ready for review or other action is required. This portal is your customer's primary entry point to your company's digital experience, and it's absolutely crucial to any agricultural retailer's online business.
Offer your largest, key strategic customers the ability to conduct business with you through a digital backdoor. Use APIs to allow them to integrate these capabilities directly in their own ERP system. If necessary, provide the technical professional services to help them implement this capability. Not only will this facilitate much more efficient and fast business, but it will also strengthen the relationship between your ag retail business and key customers.
Your digital customer portal should evolve into a contextual commerce experience with the ability for users to reorder products they've purchased in the past. They should also be able to order new products that match their search preferences or are relative to seasonal agronomic insights.
Start off by offering packaged chemicals and work your way to seed, bulk fertilizer, and custom services . The complete experience should include order status with notifications. Remember: your goal is to make your digital platform just as important as the physical storefront of your agricultural retailer's business. Functionalities like this are the key to making that happen.
A platform where communicating field-level data to your growers is of the utmost importance as you navigate through their growing journey.
New orders are based on the previous year's product orders.
Empower your business with digital intelligence
Complete an agronomic business plan with each of your customers that includes the crops they plan to grow, inputs, farm revenue, and expenses for each unit of their operation. Provide the ability for your customers to use this with their lenders and insurers.
You should also give them the opportunity to convert this plan to bookings, pre-pay orders, or in-season orders at any time from your digital platform. The planning experience should be started by your Crop Advisors and accessible to your customers in your custom digital portal. Adding robust planning sections to a retail industry platform is a great way to get customers to begin using you as their go-to site for organizing and ordering.
Provide a similar customer account overview for your salespeople in their mobile sales app as the one in your customer portal. Allow your salespeople to order products on behalf of their customers whenever they need to. Integrate digital product ordering into all components of the digital experience for your employees. Give them the ability to execute crop plans, label validated recommendations, create fertilizer blends, and input scouting observations into product orders or application work orders.
Release a mobile app that allows your sales team and managers to instantly view updated, individual and aggregate customer sales information. This should include historical sales, current and year-over-year comparisons. Highlight which product shelves (chemical, fertilizer, seed, etc) customers purchase from and the salespersons aggregate totals in each shelf.
Cross reference this information with your supply chains data to get a sense of what you'll need, why, and when. Provide individual benchmarking, campaign and goal management capabilities.
Use Digital Insights to Find Selling Opportunities
Apply the agronomic and business transactional data you have to create a comprehensive digital fingerprint for each of your customers. You can use this data to predict the crops they will grow, the risks they will likely encounter, and the inputs they will need. Understand their propensity to purchase branded or generic products and how you can maximize your share of wallet and profit with each.
Exercise this capability throughout your organization to market more effectively, plan and forecast sales more accurately, manage your supply chains, and, ultimately, procure products more efficiently.
Eventually, you'll understand what your customers need faster than they do – and you'll be in the perfect position to give it to them.
Promote selling opportunities for your salespeople throughout the digital experience as you begin to construct a digital agronomic and business profile of your customers. Utilize aggregated field data and observations along with pest, disease and nutrient modeling to fuel timely notifications for preventive or corrective decisions.
Monitor current customer purchases for upcoming selling opportunities based on historical behavior and crop plan specifics. Have your team manage your supply chains such that you have access to products when you need them.
Employ an expert team of innovative, professional data scientists to help design your data analytics environment, procure the right data and organize it for knowledge creation. This team should collaborate closely with your ag retail business and agronomic experts to guide their analysis and direct them to areas of interest and opportunity.
Expose timely and actionable insights using predictive analytics and prescriptive recommendations throughout the digital experience in the form of product purchase opportunities. Share these insights with your customers! These can help customers maximize their returns and multiply your sales touchpoints.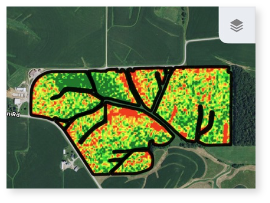 Provide digital capabilities throughout the customer journey to unlock commerce opportunities
Planning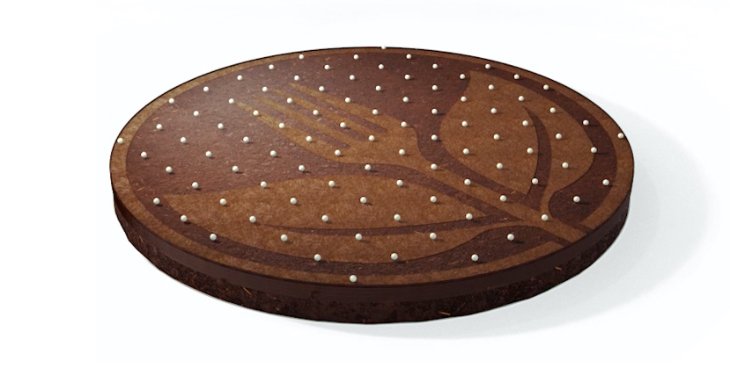 Growers and Crop Consultants collaborate on critical decisions for the upcoming season.
Pre-Season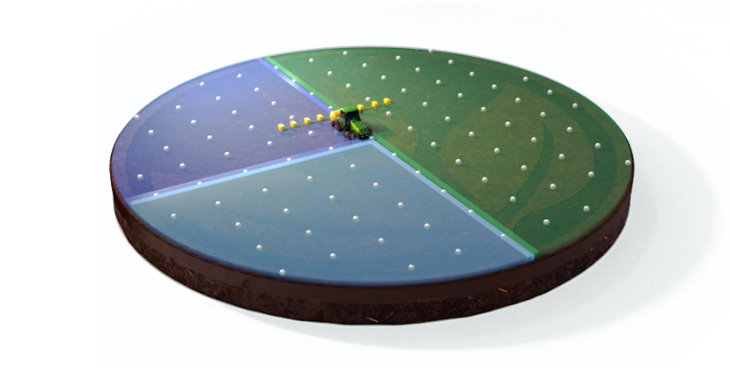 Crop nutrients need to be applied at optimal rates throughout the field according to yield potential.
Planting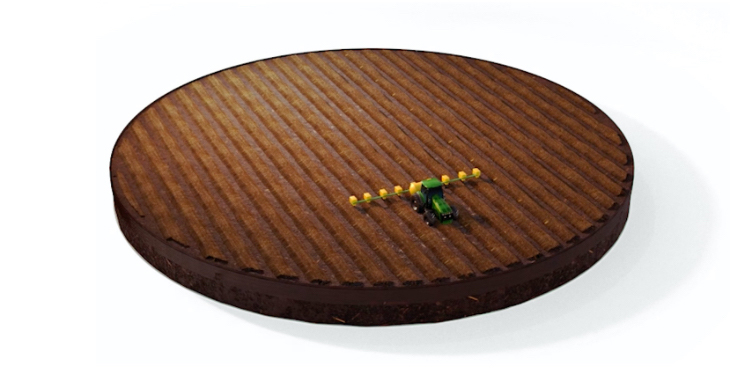 Deciding when to plant and matching the right population to the soil's potential have a significant impact on final crop yields.
In-Season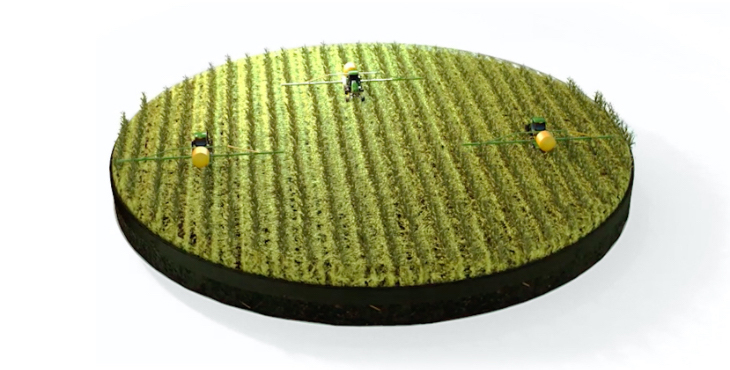 Action required alerts combined with a product recommendation streamline the decision making process to purchase and take corrective action.
As you consider your digital transformation, you need to determine if you will:
Take on the responsibility of building software in-house
Outsource the development of specific features
Use an all in one Ag retail software platform
The ag tech landscape is full of options, and some people prefer to manually piece together the specific digital tools they determine are most needed. Others assume that they will save money by integrating different feature sets or a collection of low-cost-tools, even if that means their data will not be connected all in one place.
These are all decisions you'll need to make when considering a digital transformation. We always tend to recommend working with a partner for the reasons stated above, but you should carefully consider your options. Choose the solution that makes the most sense for your agricultural retail industry business, now and in the future.
‍
At Agrian, we've always understood our role as software providers–we live and breathe Ag software. Our focus will always be on providing our users exactly the right software platform to connect their workflows. We want our clients to keep their focus on interacting with their customers and providing agronomic expertise. When people are empowered to do what they do best, we are all in the very best position to succeed.
If you'd like help implementing these steps and transitioning your agricultural retailers business into the digital age, Agrian wants to help. Get in touch any time, and our experts will help you to design the perfect custom ag retail platform. Together, we'll find your digital niche and start transforming your whole business today. Just give us a call, and we can get growing.