Better Scouting With Agrian's Field Scouting Mobile App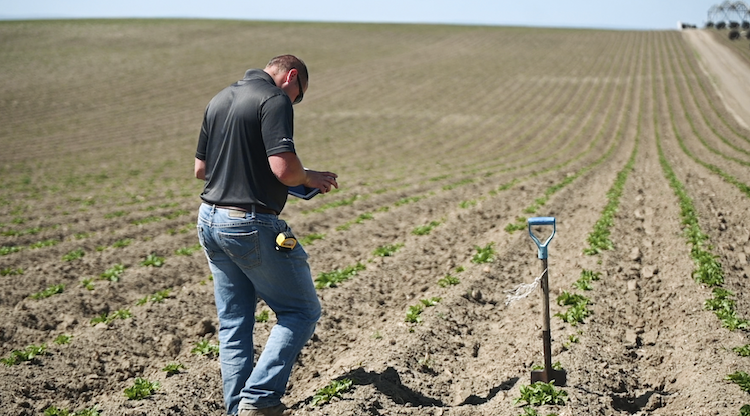 Are you still writing down your scouting observations on a notepad, then dragging it back to the office to make sense of what you originally wrote? We hear this a lot. That is why Agrian created our field scout mobile app. You use this user-friendly, easily accessible mobile app to utilize several powerful agronomic tools, including a mobile field scout tool, right from any mobile device.
Agrian's field scout mobile app was expertly designed to make field scouting as easy and effective as possible for agronomists like you. This is why you should consider trying it out for your next scouting program, and how it can revolutionize the way you record and collect your data, document your observations, and communicate with your growers.
Why You Should Use Agrian's Field Scout Mobile App
Any good agronomist will tell you that accurate notes and the ability to communicate quickly are key to having a successful scouting program. Potential problems can arise at any time and it's vital to be able to make on the fly, in real-time decisions quickly.
With its ability to collect, display, and transmit data as quickly as you need it, Agrian's field scout app is the perfect tool for helping you make those decisions in real-time. Agrian's Field Scout Mobile app not only gives you access to all of the data you've connected to Agrian from your mobile device, but it also allows you to seamlessly transmit data, notes, and observations back to your hub for immediate consultation. With Agrian's field scout app, you can remain connected to everything you need to make informed decisions, even in the field.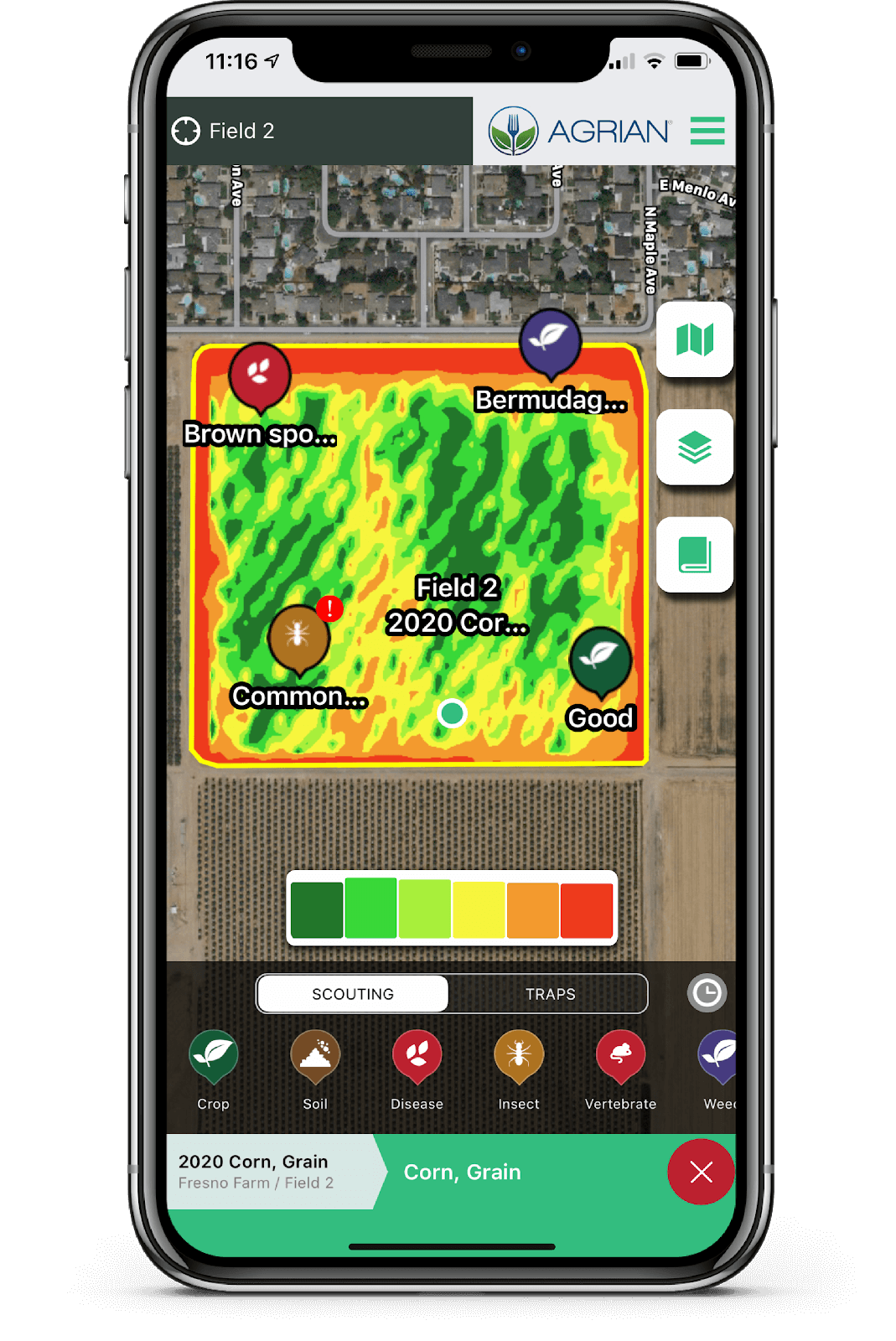 What You Can Do With Agrian's Field Scout Mobile App
Agrian's Scouting Tool will be helpful as soon as you start using it, but it will really become an essential part of your scouting operations when you explore its capabilities in more detail. To do that, dig into its capabilities and start thinking about how they could make your job easier or more effective. Here are a couple of common and highly helpful things Agrian's mobile app does for our clients:
Field Information and Pests Lists
Agrian's mobile field scout app pulls in your field information along with your pests list, making it easy to hit the ground running when you get to your field. The navigation is simple and by layering in imagery options (NDVI, CIR and Natural Color) you can determine what fields need to have a human eye put on them.
Emails, Texts, and Weekly Reporting in the Field
If you've made an observation that needs to be addressed quickly, you can send a text or email of that observation in real-time through the mobile app directly. You could even create a weekly report of your scouting activity that you can display in a customizable scouting dashboard.
In-season Imagery Display
Agrian's field scout mobile app pulls in the latest in-season imagery directly to your mobile device, allowing you to consult accurate imaging data in the field as you make your observations.
Directed Scouting with Layers
Overlay Application, Planting, and Harvest Data layers based on the information in your main Agrian account to the new data you're collecting in the field in real time, greatly improving your ability to make informed decisions and observations while scouting.
Multi-field Scouting
Quickly scout multiple fields at once from one single view within the app. This functionality is even available when the app is offline or your mobile device has no connection, allowing you to utilize it in the field.
Documentation and Note Taking Functionalities
The mobile app features easily-accessible, dedicated space for note taking and observations on crops, insects, weeds, diseases, and general notes. You can even upload photos and create and share scouting reports, all without leaving the app.
Scout and Trap Count with a Single Interface
Create trap templates and bundles, monitor them, and report on data trends all within a single interface, streamlining the data entry process and saving considerable time.
Real-time Syncing
The field scout app syncs with your Agrian account in real time as long as you remain connected, so your team and your growers can see scouting observations as they're created.
Scouting Dashboards
Scouting data, observations, and notes from the mobile app all roll up to the easily accessible Scouting Dashboards available for view on the Agrian software's main application. This tool allows you to share disease tracking and get a full administrative view informed by scouting data in real time.
and More
The whole point of Agrian's field scout mobile app is its flexibility and modularity. Our experts designed it to be easy for you to customize to your unique purposes. The more you use the mobile app, the better you'll get at making it work for you, and the more it will improve your operations.
If you think Agrian's field scout mobile app sounds like it could improve your scouting, we can help you set it up. Just get in touch with Agrian's experts right away. Both our mobile app and our whole software platform have just one goal: helping your business grow. Let's get growing today.